Thank You!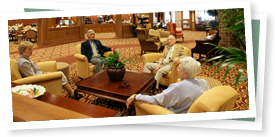 I moved to Sherwood Oaks to become part of a lively, active community of interesting residents with many opportunities to continue, and to further my personal lifestyle, interests and activities. There is an abundance of activity whether you choose intellectual, sporty, musical or dining experiences, it's all available! Sherwood Oaks encourages one to grow older with dignity. The smiles and happy faces everywhere are contagious. One could not ask for more!

- 2124Thank You!
Continuing Care
You may not need health care now, but it's a good idea to secure it for your future.
Learn More
Why Move Now?
Click here to see 10 reasons why you should move now.
Learn More