Thank You!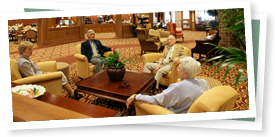 Our community of 400 residents is a wealth of talented, friendly, fun people. Sherwood Oaks is a great place~great people~great staff. Join us!

- 297Thank You!
Resident since 1996
Continuing Care
You may not need health care now, but it's a good idea to secure it for your future.
Learn More
Why Move Now?
Click here to see 10 reasons why you should move now.
Learn More