Contact Us To Learn More
Come see for yourself one of the nicest retirement communities in Pittsburgh!
As you educate yourself about retirement options, make sure that you see our gorgeous new retirement residences and learn how you can secure guaranteed health care services for life.
Call to schedule your visit Monday through Friday from 8:30 a.m. – 4 p.m.
Sherwood Oaks
100 Norman Drive
Cranberry Township , PA , 16066 United States
1-800-642-2217
Dave Capan, Marketing Consultant
Direct Dial:  724-776-8486
Toll Free: 800-642-2217
capandr@upmc.edu
"It is like working in a friendly small town."
Dave is the marketing consultant at Sherwood Oaks. He has been with UPMC for over a decade as a social worker and with UPMC Senior Communities. Dave helps with tours and admissions here at Sherwood Oaks. Dave is happy to meet and talk about Sherwood Oaks at any time convenient to you.
Casey Bleibtrey, Marketing Consultant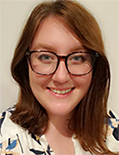 Phone: 724-776-8544
boggsc@upmc.edu